Healthy offerings from the sea​

Most of our seaweeds in British Columbia are edible, and we want you to experience them!
Join us in exploring the deep, oceanic flavour of Pacific Sea Kelp and imagine it intermingling with every-day, local faire.
Our food products are currently not available. Please check back after fall harvest. We do currently have a line of all-natural fertilizer products available.
Kelp Seasonings

When the tide is out, the table is set.
Ooh-mommy! Enjoy our Sea Forest Kelp Seasonings and discover how the unique savoriness of Pacific Sea Kelp transforms any dish.
Sea Veggie Pasta

Certified Organic. Made from homegrown, BC ingredients.
We all love pasta, and we set out to give ourselves an excuse to enjoy it more often.
The ultimate super noodle
By blending Pacific Sea Kelp with BC whole grain grain flour and semolina, we created the ultimate super noodle. Sea Veggie Pasta is a source of iron, calcium, magnesium, potassium, protein and vitamin B6.
Try our noodles for a boost of micronutrients and also for their approachable, delicate flavour. Sea Forest Pasta is available as a heart healthy meal choice for all ages. Contains wheat.
Coastal Creme

Salish Sea Inspired Ice Cream
From tide to table, we bring you a memorable treat. Sea Forest Ice Cream is as nutritious as it is delicious. Low in potassium and flavour as deep as the ocean. This one wins our
Heart Healthy
seal of approval.
Guaranteed to surprise you with briny undertones and an Umami 'je ne sais quoi'.
Sea Veggie Purée

Hand Harvested Pacific Sea Kelp, blended fresh and flash frozen into bite sized portions, or "Sea Gems"
Pacific Sea Gems. Pure, unadulterated sea vegetable, readily available to boost the flavour or nutritional profile of any meal.
Kelp Noodles

Salish Sea Whole Plant Noodle
Our most popular, plant-based meal choice. Our whole plant noodle is exactly that - all plant and all noodle. With our preparation, you'll enjoy a bouncy, tender veggie linguine that is packed with vitamins, minerals, trace elements & protein. Simply substitute Kelp Noodles for any starch or wheat based noodles typically found in your favorite recipe. You'll find that sea veggie noodles absorb flavours willingly and leave you feeling light yet satisfied.
Hot Sauce

All Natural – Craft – Sustainable
Pacific Heat was inspired by wintry seas on the west coast of Vancouver Island. Chilis & Kelp were staples in our galley, and offered warmth when we couldn't return to port. Kelp brine and chili oil tangle together in this Pacific borne hot sauce that is guaranteed to keep your cheeks rosy. Ours is a medium-spiced blend of Canadian grown peppers & vegetables, so one can be liberal in their enjoyment. Add Pacific Heat to tacos, pastas, stir-fries, soups, sandwiches & on top of a freshly shucked oyster. Smoky, savoury, sweet, tangy & a kick to finish.
Coastal Inspired Tree Milk

Refreshing - Nutritious - Plant based
We are Sea Forest. We cultivate & harvest Pacific Sea Vegetables from the west coast of Vancouver Island. Here we present a winning duo, blending Hazelnuts with Salish Sea Veggie & Maple Syrup for an undoubtedly West Coast tree milk. We offer a silky and delectable glass of protein, polysaccharides, vitamins, minerals & antioxidants, all while remaining plant based. Keep light & fuelled up wherever your life takes you. Guaranteed all-natural and sourced locally.
Coming Soon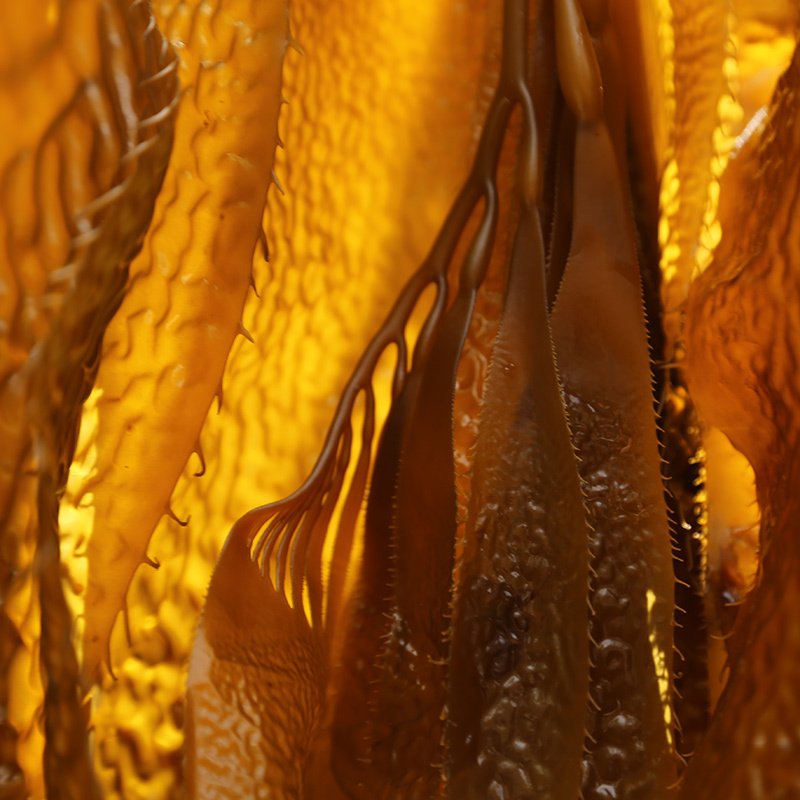 Whole Frozen Kelp
Our whole frozen kelp is for the advanced kelp connoisseur, or for those in the restaurant or catering business. Whole frozen kelp is an ideal solution for larger volumes or for creative menu development. Sea Forest whole frozen kelp thaws beautifully; plants come back to life as if they were only just plucked from the ocean. Under proper conditions, store frozen kelp for up to 6 months. Available as a wholesale item.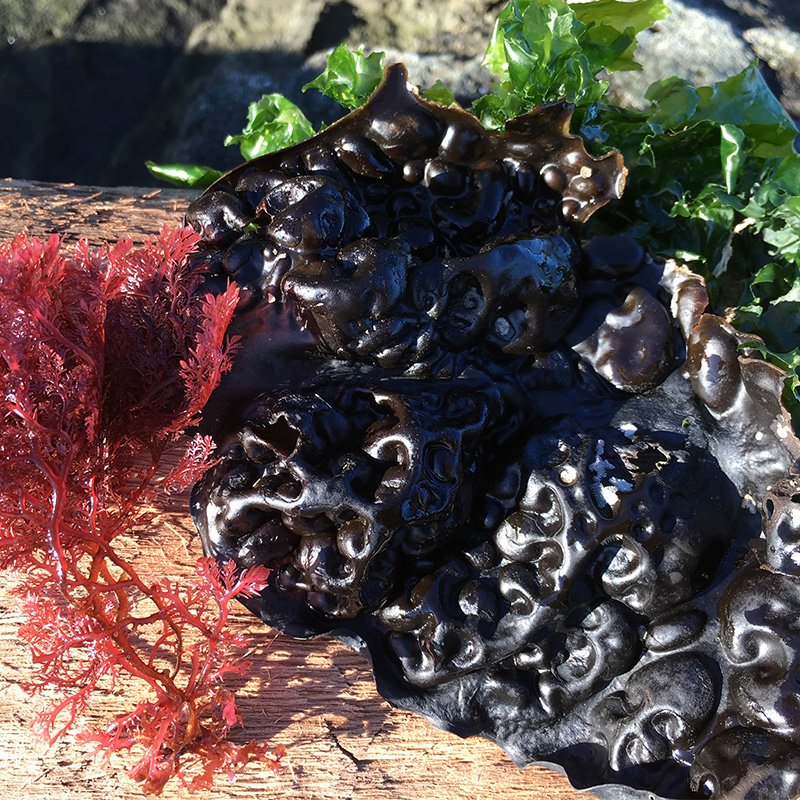 Canadian Seaweed Salad
We've taken an imported classic and put our own spin on it by using Canadian Pacific Sea Kelp. You'll recognize familiar flavours combined with a tender, yet springy sea vegetable. Our ingredients are all-natural and what you see comes straight from the ocean. Enjoyed as a side or as a feature dish, Canadian Pacific Sea Kelp Salad is bound to become a staple in our diets from coast to coast to coast..